Pratique de .NET et C#
Comprendre et exploiter les atouts de l'architecture .NET
Patrick Smacchia 2002/2003 OíReilly Juin 2003 800 pages ISBN : 2-84177-245-4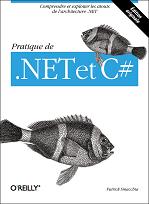 Download chapter 5 : Processus, Thread et Synchronisation.
At the moment, this book is only available in french.
Following topics are all covered in details:
q .NET architecture: CLR, CIL, assembly, metadata, deployment, synchronization, asynchronous call, application domain, security, attributes, reflexion, P/Invoke, interoperability with COM.
q C# (for each section, C#/C++ comparison) : Typing, class, objects, polymorphism & abstraction, pointers, unsafe, delegates, event, exception.
q .NET Base Class Library : Collections, I/O, socket, winforms, GDI+, ADO.NET, XML.
q Distributed application development : COM+ and .NET, .NET Remoting, AOP, ASP.NET, Services Web.
Some others books I like :

Design Patterns, Elements of Reusable Object-Oriented Software
Addison-Wesley 1994
Erich Gamma, Richard Helm, Ralph Johnson, John Vlissides
ISBN : 0-201-63361-2
Each developer using oriented object languages MUST have this book.

Patterns of Enterprise Application Architecture
Addison-Wesley 2002
Martin Fowler, David Rice, Matthew Foemmel, Edward Hieatt, Robert Mee, Randy Stafford ISBN : 0-321-12742-0
This book synthesis distributed application design without being coupled with a specific technology. The vocabulary it brings to name patterns has been adopted widely. Most of concepts introduced are quite obvious. However, analyses made are extremely deep and useful.

Component Software: Beyond Object-Oriented Programming
Addison-Wesley 2002
Clemens Szyperski, Dominik Gruntz, Stephen Murer
ISBN : 0-201-74572-0
The panorama of problematic of software architecture discussed is impressive: contract, re-entrance, granularity, fragile base class, event call & callback, .NET vs. Java vs. Corba, market view... It's definitively the bible of component.

An introduction to the Theory of Numbers
OXFORD SCIENCE PUBLICATIONS 1979 (fifth edition)
G. H. Hardy, E. M. Wright
ISBN : 0-19-853171-0
If, like me, you like theory of numbers, youíll be fascinated by all these nice demonstrations.